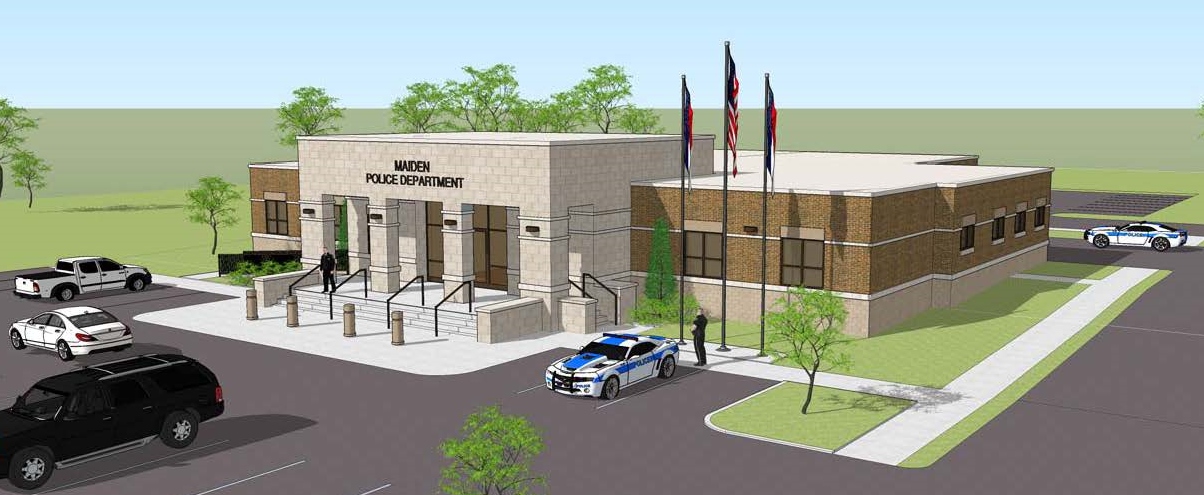 Separate Single Prime sealed Bids for the construction of a new Police Department is requested.  Work generally includes construction of a new one story police department (approximately 9,858 gross square feet).  The scope of work includes but is not limited to site work, concrete, masonry, thermal and moisture protection, steel erection, exterior metal stud walls, interior metal stud partitions, membrane roofing, interior finishes, electrical, mechanical, and plumbing.  The project site is located at 402 East Main Street, Maiden, NC.
Bids will be received by Town of Maiden within the Community Room at the Maiden Town Hall, 109 North Main Avenue, Maiden, NC  28650 until 3:00 pm, legal local time, November 30, 2016 and then at said location publicly opened and read aloud. A mandatory Pre-Bid /conference will be held in the Community Room at Maiden Town Hall, 19 N. Main Avenue, Maiden, NC  28650 at 3:00 pm, legal local time, November 16, 2016.
The Contract Documents may be examined at following locations:  Carolinas AGC, Dodge Data & Analytics, iSqFt and the office of CBSA Architects. Copies of the Contract Documents may be obtained at Accent Reprographics located at 1630 Tate Blvd SE, Hickory, NC  28602. Upon payment of $150.00 for each set of documents. Any bidder or non-bidder, upon returning the printed contract Documents promptly and in good condition, will be refunded the payment of $150.00.
For more information about this project, please contact CBSA Architects at 828-322-3403 or info@cbsa-architects.com .